Gutter Replacement Contractors
Shield Roofing also does gutter repair and replacement projects. When your roof is damaged by winds, downed trees or power lines your guttering system can be compromised as well. Gutter repair often comes along as part of an overall roofing repair or replacement pro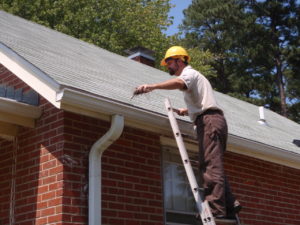 ject. Gutters get old, rust and fall apart over time. Gutters are an intricate part of a roof that funnels storm water away from your home or commercial building. A poorly functioning or damaged gutter can cause serious damage to your home or business.
Gutters are designed to channel rainwater off of your roof and away from your home. Downspouts need to be properly sized and gutters need to have the proper gradient on them for water to drain away. If a tree lands on your gutter, this can cause the gutters to no longer function properly. Water rolling down your walls is usually what happens next in the cases we've seen.  Anytime there's suspected damage to your gutters, you need a qualified contractor to inspect. Don't risk your own life and limb by climbing on a ladder to inspect gutters. Call a professional like Shield Roofing to come out and assess any potential damage.
When storms hit, heavy rains can overburden a damaged gutter system. Make sure your downspouts are snug to the roofline and properly draining. If you have mature, tall trees in your area be certain that the gutters haven't been clogged or bogged down by leaves, limbs and other debris. When the downspouts can't handle the amount of rainwater draining from your roof, that water can be channeled inside of your home or along foundation walls.
This problem is something we've seen all too often. A gutter is overflowing and the homeowner ignores it until the problem has caused much greater issues. We've seen electrical fires, flooded basements, damaged interior walls and ceilings falling in all because the homeowner didn't take the time to periodically inspect their downspouts.